… you may not cause or allow harm to come to a human being.
This message holds a much clearer and deeper meaning for me now than it did a month ago.
It was my aim to use it, and other rules like it, to inhibit a player's actions in a video game. Partially as a point of tension, but also to put the player in a position to think outside of the usual suspects (smashing/shooting/stabbing/mangling/pummeling) when presented with an antagonist. I thought of it as a limitation or weakness, like Kryptonite.
Something about my perspective was way off-base. Perhaps I knew it then, subconsciously. Now there is no question. It's just plain old screwed up.
 Don't get me wrong. I lo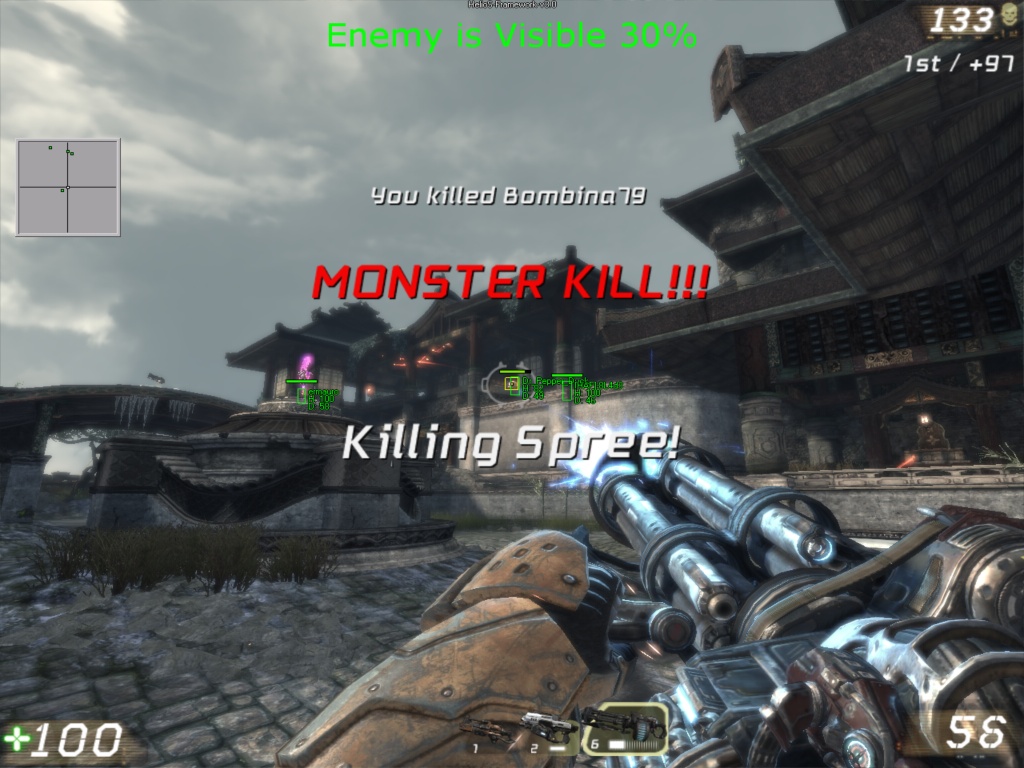 ve blasting baddies and slaying dragons as much as any rabid action/adventure fan. Some of the greatest games I've ever played are absolute fragfests. All this in mind, something about a character with the capacity but absolute lack of desire to hurt anyone was even more empowering.
Development was a bit of a blur. I know I learned a lot. I know I didn't do it alone. And I am eternally grateful to everyone who
supported our efforts throughout the process. The sticking point in regards to the message became less about the contest, or even what I wanted to deliver to the player. The more into unfamiliar territory I ventured, the more enraptured I became with the multitude of doors that opened simply by shutting one. (Well, two. The character can't jump, either.)
I'm not going to go on some crusade, swearing an oath to make PacifistQuest IV (you heard it here first, it's mine), but I am confident that I am capable of operating outside of the tropes typical to the games I like to play and endeavor to create. I like heroes. I like stories. I appreciate conflict. I like the notion of victory. How all of this will dovetail in the end is unclear at the moment. There's SOMETHING there, and I just want to figure out what it is.
April 14th was easily the most bittersweet of days I've come to experience in my 30-ish years on this planet. So many firsts. My first Unity game (mostly) completed , my first rapid-fire development contest entry, the first game I ever contributed actual code on. I had been looking forward to this day for over a month. Crunch-time was a mix of heaven and hell, trial and error, frustration and fanatical feature refinement right up to the final minutes of the contest. The morning of April 15th loomed overhead like an anvil, and I was both excited and frightened to all hell.
When morning came, and news of the horrible events in Boston started flooding in, something inside me broke. I found myself reacting to tragedy in a way that felt alien. I'm typically good about compartmentalizing my immediate emotional responses to horrible horrible news. This time it was just different. I dodged the mainstream media much as I could, because I despise the spinning, the cute logos, the invasive reporters shoving microphones down people's throats before blood has dried, while wounds are still fresh, and the pain is very very real. It didn't matter, though. And I could not, for the life of me figure out why NOW of all times I found myself in a state of absolute outrage. Depression, fear, anxiety and defeat all trickled their way in and broke me down for the better part of the day.
I cannot know the pain those present must have felt and are still feeling first-hand. But I know now, that they are not alone. Just like somehow I knew I wasn't alone. And the only thing that kept things in perspective for me was that singular message.
Do No Harm.
It started out as a contest theme. Now it's a bit more of a mantra. I've done plenty of things I'm not proud of (as I'm sure most of us have), and I've hurt enough people on the way to fill an auditorium (maybe a small one) with those I owe a heartfelt apology to. There will always be things that trigger me, make me angry, make me irrational, or make me want to lash out. I know now that it's my responsibility to manage those reactions as much as I know that it is my responsibility to bring no ill-intent upon my fellow man.
There is little I can do to ch
ange the course of human events on a global scale, nor do I have a desire to engage in politics, push agendas or my ideas of liberation upon others. That is not what I am built to do. I will instead, engage, entertain, and hopefully provoke thoughts, like the ones that were provoked in me, in others through my body of work, my games, my art and my interactions.
Ro Bo Peep, our EDGE Online Get Into Games 2013 entry is alive and well on this site. You can play it here, and feel free to tell us what you think, we'd love to get your opinion of it. The game plays best with a PC controller (XBox 360 optimally), but the keyboard controls are effective enough, considering the moderate (medium?) pace.
With an original score written by none other than Deann Baker of Filming 'Round Midtown fame and programming savvy by Corey Frang (G-to-the-narf), it is a milestone for me (hopefully for all of us), and a shining example of what is possible in the smallest amounts of time with the right kind of people. Can't thank you both enough, in addition to the slew of playtesters that got their hands on the game in its early phases, broke it down, and made me understand how to talk to them through play.
Not really certain what's next, but I assure you that it will be significant!
I hope this message finds you well, reasonably happy, and hopeful for a bright future for yourself and others.
TTYL.
- Lelex